Description
PRODUCT DESCRIPTION
LEDDY SLIM lamps – designed for freshwater and marine open aquariums (without a lid). LEDDY SLIM is an absolute novelty in the market. The lamps employ carefully selected LEDs which ensure proper lighting of the aquarium, provide excellent living conditions for its inhabitants, and create a unique visual effect. The lamps are made of corrosion-resistant, easy-to-clean glass. Thanks to their futuristic flat design and fashionable white colour, the lamps fit perfectly with modern aquarium tanks and look great in any room interior. In addition, the lamps are highly versatile thanks to the use of sliding brackets allowing for them to be mounted on tanks of different lengths, including custom-sized tanks. AQUAEL offers a wide range of models for tanks that are 20 to 120 cm in length.
The LEDDY SLIM lamps are available in  MARINE (colour temperature of 10000 K) designed for marine aquariums. The line includes models designed for tanks that are 80 to 107 cm in length (LEDDY SLIM 32 W).
Being the most up-to-date lighting solution for aquariums, light-emitting diodes have been actively displacing the outdated fluorescent lamps from the market. They provide the ideal light parameters for an aquarium tank, while consuming far less energy than conventional light sources. In addition, their service life is several times longer than that of fluorescent lamps. This means additional savings, as there is no need for frequent replacement.
In order to make their service life even longer, AQUAEL, the leading manufacturer of LED lighting fixtures for aquariums, has implemented a novel solution. The latest generation of the LEDDY SLIM and RetroFit lamps is equipped with an innovative self-repair system.
The innovative self-repair system.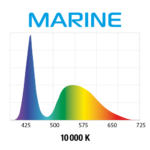 2 Years Guaranteed.